General Home Inspection
For homebuyers, M&T Inspection Services provides professionally certified and licensed home inspection services and unparalleled reporting services. A general home inspection is a non-invasive visual examination of the home's accessible structure, systems and components, including:
Roof
Exterior
Garage
Interior
Kitchen and Appliances
Insulation and Ventilation
Structural Components
Plumbing
Heating and Air Conditioning
Electrical System
Outbuildings, Barns and Detached In-Law Quarters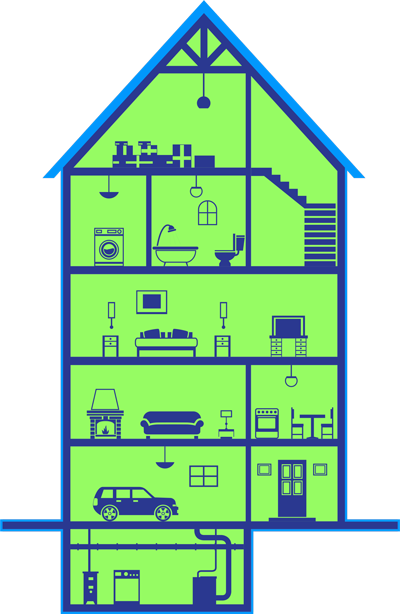 Pre-Listing Inspection
Are you selling your home? Before you place your home on the market, have a pre-listing inspection performed to eliminate surprises during the closing process. A pre-listing inspection gives you the benefit of being able to determine your home's worth in its existing condition or the ability to prioritize repairs before placing it on the market. Take advantage of the unique Create Request List on your home inspection report, so you, your realtor and contractor can conveniently address items on the repair addendum.

Repair Verification Inspection
A repair verification inspection will determine that all repairs recommended during your home's previous inspection are compliant with industry standards and that issues have been fully resolved by your contractor.

New Construction Phase Inspection
New construction phase inspections are performed during various phases of your home's building process to verify the integrity of workmanship and to address defects to be corrected before becoming inaccessible after construction. M&T Inspections Services provides inspections after each of three new construction phases: after the foundation or slab is poured, pre-drywall or after framing is complete and before the home's final walkthrough to ensure all systems are working properly before closing.

Home Check-Up Inspection
As a homeowner, an annual home check-up inspection is an important part of maintaining the major systems of your home. This inspection evaluates the condition of your home's systems and components and identifies any defects needing repair or replacement now to reduce their risk of becoming unavoidable and expensive future catastrophes.

11-Month Warranty Inspection
Maximize your new home's one year builder's warranty coverage with an 11-month warranty inspection. This inspection is conducted in the 11th month of your home's warranty before its expiration date. It enables you to bring any installation deficiencies to your builder, so repairs can be made while the warranty is still in effect.

Light Commercial Inspection
From office spaces to storefronts, M&T Inspection Services will evaluate the readily accessible major systems and components of your light commercial property to verify that it's in operable condition and suitable for your business needs. Call today for your commercial inspection quote!

Well and Septic Inspection
Ensure your home's well water is safe to drink and that your septic and plumbing systems are functioning properly with a well and septic inspection. While your water may originate from a clean source, the piping and systems carrying the water may be old and deficient, compromising the quality of the water as it reaches your home. This inspection will evaluate the condition of the structure and components of your well and septic system to make sure it's in working order and that your water is safe for consumption.

Termite Inspection
Protect your home from unwanted pests with licensed termite inspection from M&T Inspection Services. Not only are termites intrusive, they can also cause major damage and compromise a home's structural integrity. A meticulous examination of your home's interior and exterior structure will confirm or negate the presence of termites in your home. If evidence of termites is found, you will be advised on how to proceed to eradicate the pests, repair the damage they caused and safeguard your home from future infestations.

Radon Testing
Radon gas is an invisible danger that could be lurking in your home and compromising the safety of your family. Radon is a radioactive and naturally occurring, colorless and odorless gas. According to the EPA, radon is the leading cause of lung cancer among nonsmokers in the United States. The only way to detect radon is through testing. Ensure that radon levels are safe in your home with M&T Inspection Services' non-invasive, lab-certified radon test.

Mold Sampling
Mold can be a serious health hazard in your home, and the best way to determine its presence is with a visual inspection of potential moisture intrusion and mold growth areas. If identified, samples of the mold will be sent to a lab to determine the type of mold spore present and the health risks they pose. Your inspection report will recommend the next steps to take to eliminate mold issues and mitigate moisture intrusion.

Asbestos Sampling
In older homes, asbestos may be present in building products and insulation materials. Asbestos is cancer-causing and is primarily dangerous when it becomes airborne. Have your home tested for asbestos to identify whether or not it exists in the systems and components of your residence and if exposure should be considered a health concern.